Last Sunday we had our annual Christmas program at church. It was beautiful and uplifting from start to finish. At one point, the congregation joined in for Angels We Have Heard on High, and when we started verse 3, I was struck by the first line and couldn't get past it:  Come to Bethlehem and SEE…
I had a flashback to my conversion to Christianity when my very first prayer, God, if you're there, I need to know it…., was answered with a stunning outpouring of love. Suddenly, I could see: see that God was real, see that He loved me, and see that I should henceforth follow Him. My life has never been the same, and my focus shifted from:
How do I get this baby to sleep through the night?
What am I doing this weekend?
How do I pay my bills?
To:
How can I be a more serene and loving mother?
How can I teach Kevin (and Billy and Roxanne) to read?
How do I stand approved before my Savior?
Robert Frost wrote:
Two roads diverged in a wood, and I –
I took the one less traveled by,
And that has made all the difference.
Well, this Christian journey has made all the difference in my life, taking me far from where I would certainly be today without it.
We start looking at baby Jesus in the manger at Christmas, but we can also look ahead to His full triumphal return in glory. Please enjoy the following pictures and scriptures as we turn our eyes to more fully see "Him whose birth the angels sing":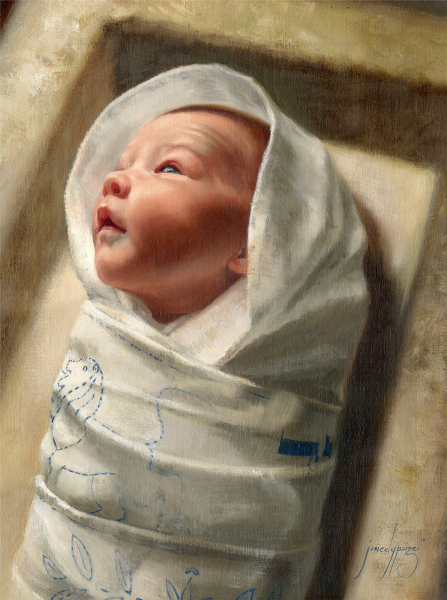 "Little Lamb" (in a White Stone Manger)
Courtesy JenedyPaige.com
And when they had lifted up their eyes, they saw no man, save Jesus only. (Matthew 17:8)
For this people's heart is waxed gross, and their ears are dull of hearing, and their eyes they have closed; lest at any time they should see with their eyes, and hear with their ears, and should understand with their heart, and should be converted, and I should heal them. (Matthew 13:15)
But as it is written, Eye hath not seen, nor ear heard, neither have entered into the heart of man, the things which God hath prepared for them that love him. (1 Corinthians 2:9)
And they sung a new song, saying, Thou art worthy to take the book, and to open the seals thereof: for thou wast slain, and hast redeemed us to God by thy blood out of every kindred, and tongue, and people, and nation; And hast made us unto our God kings and priests: and we shall reign on the earth. (Revelation 5:9-10)
Come to Bethlehem and see – see differently!
The Second Coming by Harry Anderson
Courtesy The Church of Jesus Christ of Latter-day Saints